Trust & Care - Two Hallmarks of Supply Chain Segmentation
Supply Chain Segmentation Drives Today's Digital Marketing - This is how I explained the situation to a group of a senior executives of the company I was consulting to recently.
The profitability was falling, and customers were abandoning the company (I cannot go into too much specifics of the case for obvious reasons of confidentiality).
Let us say that each customer segment was unhappy.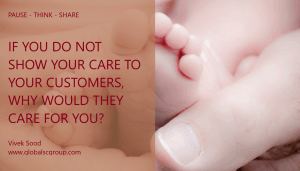 High net worth customers were unhappy because they were not getting the premium service they expected.
They would place or order and get a very mediocre service (from their point of view).
I do not want to go into too much detail of their frustration because I do not want to reveal more details of the company.
But suffice it to say that the experience was akin to paying for a sports luxury vehicle, and getting a cheap low-end vehicle.
On the other hand, mass market was not happy either.
This was surprising! Everyone in the client's team was astonished to see the data. But the truth could not be denied.
A number of focus groups revealed that they were unhappy because they could get the same product for much lower price elsewhere.
The results were predictable - high customer churn, accompanied by falling profits.
The main reason was that all these various customer segments were being served by a single supply chain that was a happy medium of all their requirements.
If You Do Not Show Your Care to Your Customers, Why Would They Care For You?
No wonder, none of the customers felt that they were getting what they deserved.
The company was clearly not showing their customers that they cared for them, and as a result most customers simply voted with their feet.
So, what is the solution?
Extend the segmentation effort beyond marketing - to the entire supply chain
Clearly, a segmented supply chain is required to demonstrate to each customer segment that the company is going beyond the marketing and positioning statements, to actually serve them with care that evokes trust and loyalty.
This is not the only company that is in this situation. About 60% (estimate) companies I observe are not very far from this reality.
It is relatively easy to segment the market and come up with catchy marketing slogan for each segment that resonates with them.
The hard work involves to follow up that marketing message with a tailored supply chain that delivers what your promised.
Related articles on Supply Chain Segmentation